A friend suffered a flight delay. I offered to help claim compensation. Within 24 hours he was awarded 600 Euros. Here's what happened…
The 2 Day Delay
A friend's Qatar Airways flight from Copenhagen to Doha (QR164 July 17th) was delayed….for 37 hours! (see news report here).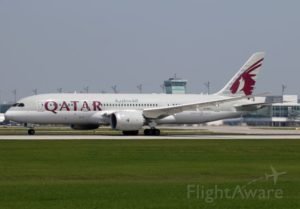 I mentioned to him I'd heard that people can claim compensation for delayed flights but, like most people, the idea of entering into some convoluted claim process with no guarantee of success is not something you want to be bothered with when there is some serious holidaying to do. So I said I'd look into it for him.
Fire Up the Interwebs
So I hit Google and soon landed on the relevant moneysavingexpert page. This confirmed a claim was worth making as the following conditions were met:
Flight departed from an EU airport

Delayed over 3 hours

The cause (technical fault) was likely the airline's fault
I was then pointed to a site called resolver.co.uk
Fill In A Form
On this site I just had to enter a few details and it then fired off a standard email to the Qatar Airways London office. (This was the important bit and it took 5 minutes).
Result
Within one day he received a nice email from a Qatar Airways Customer Care Officer offering 600 Euros compensation.
…He accepted.
High Fives
It really was that simple: basically send an email containing the booking reference (which identifies the flight and passenger) and quoting the relevant law (EU rule 261/2004).
And it seems there is no limit on how far back a claim can be made (2010 is mentioned as a possible cut off year).
Kudos
So big thanks to Qatar Airways for responding quickly and correctly; good customer relations after an unfortunate event.
But…
It would appear that some airlines are not as concerned with customer satisfaction as Qatar. My internet meanderings revealed tales of airlines that would deny, lie, fail to reply, obfuscate and discombobulate.
A Solution
There are legal firms that have set up to exploit this EU flight delay compensation thang. They operate on a no win no fee basis and take 25%+ of a successful claim.
Their appeal is clear as they will handle everything for you and if necessary escalate the case including threatening court proceedings, wearing wigs and writing long letters that no one understands.
The Take Away
So, if my experience is anything to go by, then best advice would be to first make a claim yourself. If that fails, then try one of those law firmy type companies.